PAGE SIX

The damage to the ship was incredible. Rockets soared across her bomb-riddled flight deck. Ready service magazines exploded. The 32 ton forward deck elevator lifted into the air and crashed back through to the hangar deck. The explosions literally lifted the carrier out of the sea and shook it from side to side. Men standing on the decks of the adjoining task force ships saw thick black smoke rising hundreds of feet in the air above the Franklin like the mushroom cloud of an atomic explosion. No one thought the Franklin would survive.

Big Ben's skipper reacted decisively. He swung the ship's wheel to starboard, permitting firefighters to work fore and aft. The Franklin, still pushing 24 knots was now headed on a direct course for Japan. Eventually, her boilers shut down. She began drifting toward the shores of Japan; she would come to within 50 miles from enemy shores; an easy target for the Japanese land based bombers. Rear Admiral Davison and his aide came up to the bridge and told Gehres that they would have to transfer the flag to a nearby destroyer. The Admiral's aide suggested to Gehres that he issue the order to abandon ship over the starboard bow. Gehres said years later, "That was none of his damn business. I had no intention of abandoning the ship."

Gehres kept in mind the lessons learned at the Battle of Midway. He remembered that when the U.S.S. Yorktown, CV 5, was sunk, our destroyers had delivered the final torpedoes that destroyed her. He had heard the rumor that men were trapped below decks on the Yorktown when she went down. He stated that he was not about to send hundreds of his own sailors to a similar fate. The Admiral and his aides left the Franklin. Captain Gehres set his mind to saving his ship and his crew.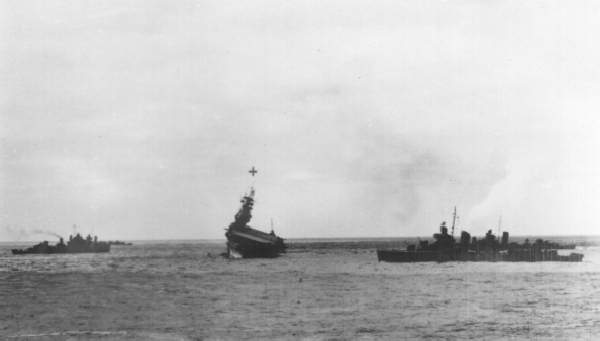 USS Yorktown Sinks At Battle Of Midway