PAGE SEVEN

Meanwhile, another gallant officer on the Franklin, Lt. j.g. Donald A Gary, a 30 year navy veteran set out to find men trapped below. He donned an airbreather with a 60 minute oxygen supply and descended into the ship's smoke filled labyrinths. Gary negotiated his way through passageways filled with fallen shipmates until he came upon the mess hall filled with 300 men who were certain that death was imminent. He restored their hope, telling them that he knew a way they could all make it out alive. Gary led the men in small groups up to the flight deck past indescribable visages of death. He repeated this journey several times until all the men in the mess hall had been led to safety.

Above on the flight deck, the fires were still burning. The Catholic Chaplain, Joseph O'Callohan was administering last rites to the gravely wounded when he learned that a fire was threatening to blow up one of the ship's five inch gun mounts. The Chaplain assembled a work crew and jumped into the mount, throwing the ammunition overboard and saving the ship's island from certain destruction.

For the meritorious actions, above and beyond the call of duty, in tyhe face of the enemy, and with no apparent regard for their own well-being, O'Callohan and Gary were both awarded the Congressional Medal of Honor.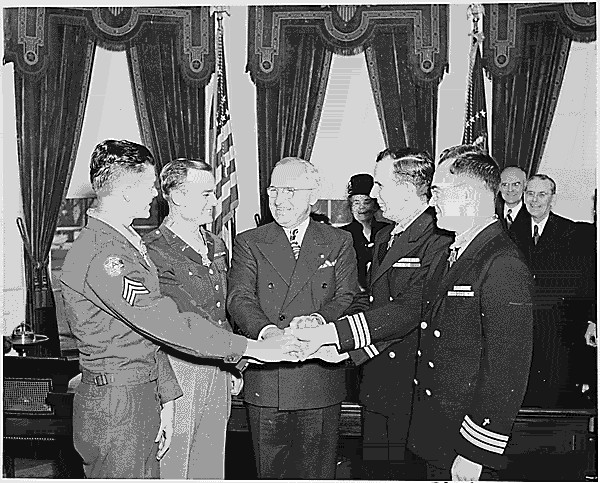 President Truman (center) Awards Congressional Medals Of Honor To Father O'Callohan (At Far Right of Picture) and Lt. Donald Gary (To right of President Truman)